Vietnam
Hanoi

If you have been to south east Asia before then you will be used to the busy and hectic roads, Hanoi is no different. There are motorbikes everywhere, weaving in and out of people, other bikes and cars.
We instantly fell in love with Hanoi's charm. It's hard to explain what it is about the place that drew us in so much, I think it was the mixture of the strong community spirit of everyone eating outside together and how friendly everyone is, if you walk down every street then the local people will always say hello to you.
Food-wise there is a lot of choice. We found a very cute vegan restaurant called Jalus. It had a great selection of vegan food and felt really healthy, which was a nice change, as we had been eating a lot of greasy food while travelling around Asia. The owners were really friendly and it had a nice balcony that we sat on, eating our food over looking the busy street down below. We find the app called Happy Cow is really helpful if you are looking for great vegan and vegetarian restaurants.
On one of the days we spent in Hanoi we made pasta in our apartment for dinner. It was so nice being able to cook for ourselves after a month in Thailand with no kitchen facilities. If you are in Hanoi I would really recommend our airbnb we stayed at. It was brilliantly located and the shop below the appartment was super helpful, they sold outdoor clothing and shoes. When I arrived I brought a pair of trainers as my flip flops were not cut out for all the walking we would be doing in Vietnam.
We found a street called train street. It's a narrow busy street lined with coffee shops, people working and children playing. There is a train track running down the middle of the street and it looks like it could be from a movie set, it's got a lot of charm. The coffee shops and smoothie shops have really reasonable prices, cheaper than other parts of Hanoi.
The train came down the street while we were visiting, it did make my heart beat a bit faster as it felt like such a narrow gap between us and the train. It didn't bother the locals in the slightest, as they are used to it. Just as soon as the train arrived, it was gone again and the children went back to playing on the tracks and people carried on drinking their coffee and strolling down the street.
We spent the whole day exploring Hanoi, it's such a fantastic place just to sit and people watch, there is so much going on. We were there on the lead up to their luna new year, so lots of the locals were wearing their smartest clothes and the ladies were in beautiful traditional dresses and outfits. We sat by Hoan Kiem Lake and chatted for ages, it's a beautiful spot to relax after a long day walking around the city.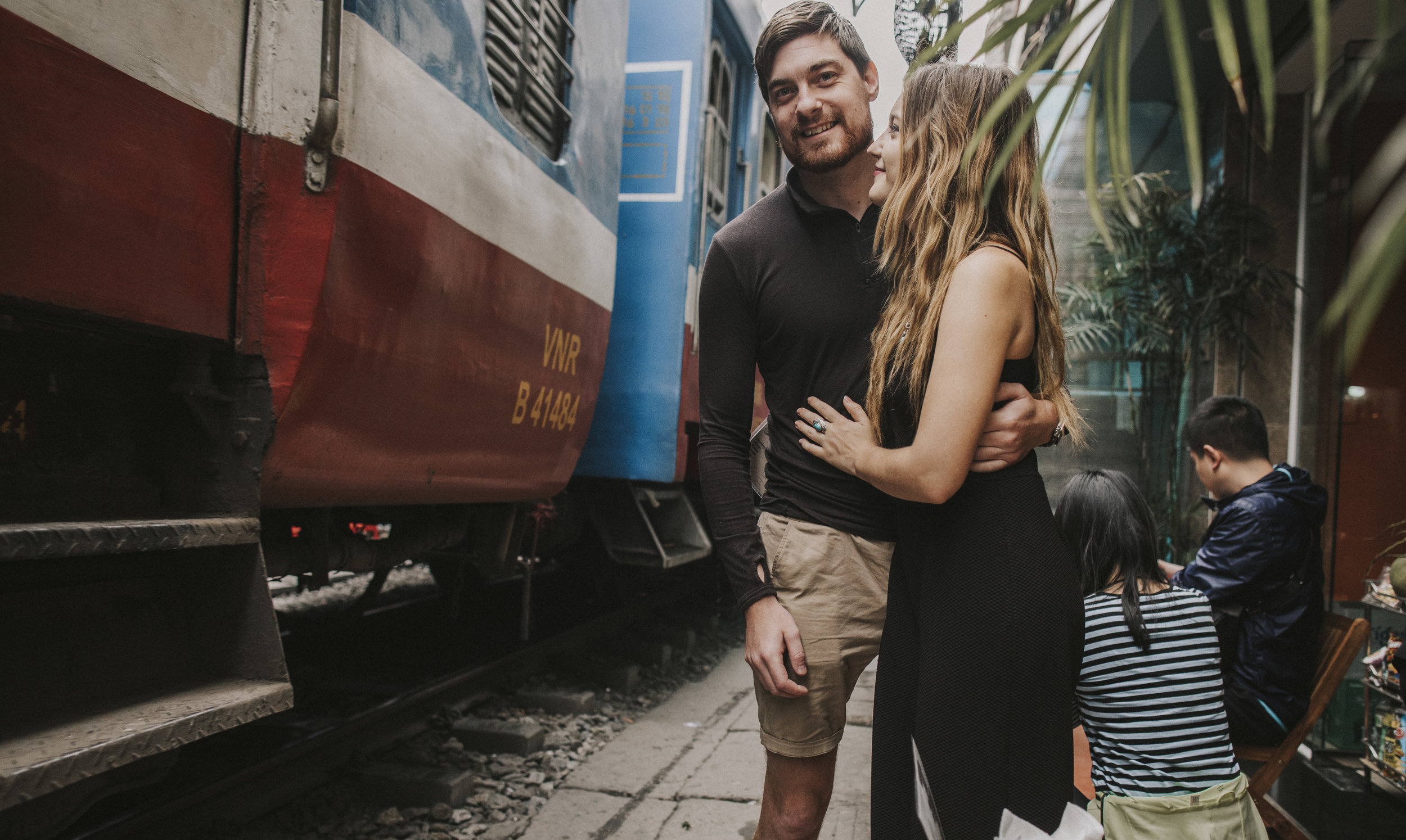 We spent 2 nights in Hanoi, which I think was enough time for us as we explored a lot. However I think you could be there for a week and each day still discover lots of interesting places. It's a place I would defentily recommend visiting if you are planning a trip to Vietnam.

Here are some of our favourite places in Hanoi to see and things to do-

Hoan Kiem Lake, Train street, St. Jospephs Cathedral or just grab a coffee and spend hours people watching.



Tam Coc
We got the train from Hanoi down to Ninh Binh. It was around a 2 hour train journey, the trains over here are a little crazy as they blare loud music out so it feels like a disco train, plus the aircon is super cold so make sure you layer up if your planning a train journey.
When we arrived in Ninh Binh we found this great little restaurant across the road from the station that did really nice homely food (Dong Minh Restaurant). I had a Bánh mì which is basically a really great fresh baguette, the restaurant owners were super friendly and after our food they drove us to Tam Coc which was about 10 minutes drive. Tam Coc is beautiful, it just feels a lot more peaceful than Hanoi.
On our first full day in Tam Coc we went on a boat down the Ngo Dong River. We had a couple rowing us and it was lovely to chat to them, it was like hanging out with old friends and they made our trip down the river even more special. The views were incredible. If you are in Tam Coc then this boat trip is really worth doing. The locals row the boats with their feet as it eases the pressure form their backs and arms. It's a skill that is very impressive to see.
Later that same day we headed to the beautiful Bích Động. It was such a peaceful tranquil place to be. This as well as the boat ride are for sure up on our top things to go and see in Vietnam. So much beauty, and so relaxing.
During our stay in Tam Coc it was the Luna New Year and our Airbnb hosts had welcomed up to join their family to celebrate the new year in.
At midnight we went down stairs and sat in the living room with them, they welcomed us to their traditional favourite foods and gave us beer while we all sat and watched the fireworks on the tv. The children were so exited as it stuck midnight and got out their confetti canons. It was so lovely to witness and be a part of a family's special evening and to really experience Tet in an authentic way.
Our Airbnb hosts were such a lovely friendly family and made us feel so welcomed. At every family meal they offered us to join them, we had to politely turn the offer down as it was mainly meaty dishes, but it was so lovely for them to welcome us.
The next day we headed to the Mua Caves. Everyone advised us to go there by motorbike or taxi but we decided to walk, just like most of our trip walking has been the way we get around. It was a good solid walk for an hour and then the same again back.
The walk was a beautiful walk, but hard work in the sun . It also came with it's challenges, such as avoiding getting chased by stray dogs and also the bulls in the road were pretty intimidating. Luckily we made it to the Mua Caves safely, once we arrived it looked pretty commercialised, with bright coloured lights, swings and shops at the bottom of the mountain there selling drinks and ice cream. It was however also nice to be able to sit down and get a drink after the walk.
There were over 500 steps up the mountain to reach the top, which felt longer in the sun, but once up at the top it was a breathtaking view and well worth the walk. Over looking Tam Coc, Trang an and Ninh binh city. Looking down at the view we felt so lucky to witness such beauty.

Top tips for Tam Coc- Bring water and suncream with you on your days out, as we did a lot of walking and were in the sun a lot.

It costs 100.00 Vnd/ per person to enter and visit the Hua Cave.

If your going during Tet like we did then it's amazing to watch everyone celebrate the new year however a lot of restaurants were closed.
Sleeper Bus
We were planning on getting the train down to Hoi An, but with it being Tet, the trains were not running as frequently and were all fully booked so we didn't have much choice and had to get a sleeper bus.
The bus journey was hectic, the busses are double decked and jam packed. This we could put up with but we had little friends with us that no one had invited ......cockroaches and bugs that probably outnumbered the people on the bus, this made for a long night with not much sleep. It felt a bit like we were doing "a bush trucker trial" with no option to put your hand up and say "get me out of here".
Hoi An
After the sleeper bus we couldn't wait to get to our hotel that we had booked to stay in for 5 nights, this was at Hoi An Garden Palace and spa. It was the longest we had stayed in one place during this trip so it was nice to be able to settle in for a while.
On arrival we were welcomed with water melon drinks by such friendly reception staff and they gave us a complimentary room upgrade! This was so appreciated after our bus journey. Our bed room was beautiful, comfy queen size bed, beautiful en-suite and balcony. It was so nice to arrive to such a lovely place to stay after our long 18 hour journey to get here (including all the stops).
Near by we found a great Indian restaurant and it was so nice to have a good meal again as we had just been surviving on snacks from the corner shop since our long bus journey.
On the way back to our hotel I found a sweet little family-run shop selling dresses, all for really reasonable prices and they even offered to adjust the clothing to fit perfectly. ( The red dress in the pictures above was brought from this little shop.)
If your coming to Vietnam and looking to update a few items in your wardrobe there are lots of clothing shops to pick from.
We woke up very early and explored the old town before the streets got too busy with tourists, it's such a stunning place with so much character.

Our overview of Vietnam is that its amazing, its beautiful and filled with the most welcoming people we have ever met anywhere on our travels, if you walk down the road and see people they are all so smiley to you and happy and everyone says hello. Their smile makes you smile and it really is a lovely way to brighten your day.

Tips- Bring bug spray, I forgot to put it on for a couple of days and got eaten alive.
Spend time chatting to the locals they love to practise their English and learn about where you come from.
It's hot! So pack a high factor suncream.

I hope you enjoyed this little blog post and have a look at a sample of the images we took in this beautiful country.


Brook & Richard
x